Tile Holesaw
Diamond-tipped cutter permits drilling in ceramic tiles and rigid tiles.

CHARACTERISTICS
The carbide center pin ensures accurate hole starting without bit walking or shifting.
Easy to operate with the automatic locking and manual release mechanism.
(S-Lock system)
APPLICATIONS
Ceramic tiles, various types of tiles (Always use this tool for wet drilling.)
SPECIFICATIONS
Cutter size:
ø7/8" to 2-9/16" (ø22mm to 65mm)
Max. drilling depth:
1-1/2" (38mm)
Shank size:
Straight shank 3/8" (10mm), SDS shank,
1/4" Hex Shank
(For cutter size of 1-3/8" (35mm) or less)
Applicable electric drill:
Portable double insulated electric drills (in the rotary-only mode) or use GFCI.
Size table
The actual sizes are in metric, imperial sizes are approximate.
Cutter size D
Cutters
inch
mm
Part No.
7/8"
22mm
SLT022
1"
25mm
SLT025
1-1/8"
29mm
SLT029
1-1/4"
32mm
SLT032
1-3/8"
35mm
SLT035
1-1/2"
38mm
SLT038
1-3/4"
45mm
SLT045
2"
50mm
SLT050
2-9/16"
65mm
SLT065
* Click here for information about the shanks and center drills.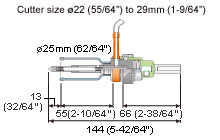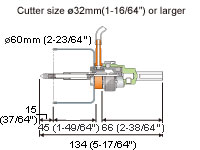 Shanks (without center drill)
| | | |
| --- | --- | --- |
| Item | Part No. | Specifications |
| Straight shank for Tile Holesaw | SLSKTU | Straight shank 3/8" (10mm) |
| | |
| --- | --- |
| * | The plug ejector is included. |
Center pin
| | | |
| --- | --- | --- |
| Item | Part No. | Application |
| Center pin | SLCP | Tile Holesaw |
Plug ejector
| | | |
| --- | --- | --- |
| Item | Part No. | Application |
| Plug ejector | SLPE | Removal of dust |
Cutter adaptors
| | | |
| --- | --- | --- |
| Item | Part No. | Cutter sizes |
| Cutter adaptor 30 | SLADP30 | 1-3/16" (30mm) or less |
| Cutter adaptor 38 | SLADP38 | 1-7/32" to 2-9/16" (31mm to 65mm) |
| Cutter adaptor 130 | SLADP130 | 2-19/32" to 5-1/8" (66mm to 130mm) |
Water bottle swivel set
| | |
| --- | --- |
| Item | Part No. |
| Water bottle swivel set | PBSS |