Deltagon Bits
■ Solid Carbide Head.
■ Special jointing Method
■ Three and Five Edges.
Safer Drilling Against Re-Bar
Multi cutting edge reduces sticking when hitting re-bar.
Penetrates Through Deck-Plate
Drills through steel plate (1/16" thick) and concrete.

Drills Near-Perfect Round Holes
The absence of a chisel-point cutting edge eliminates rifling and prevents the occurrence of Oval shape hole.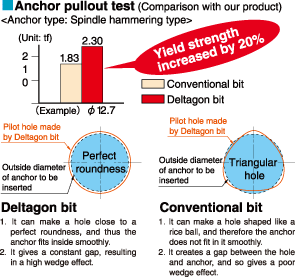 Smooth and Easy Centering
The center point one-piece carbide head helps to achieve smooth and easy centering.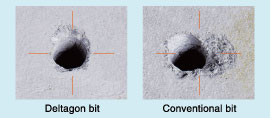 Longer Life
The wear on the outside diameter is much less compared to standard bits.

Most drill bits have a chisel edge which causes rifling. During this rifling process, both ends of the chisel edge become the momentary axis of the drill bit. This produces a hole with a triangular or pentagonal shape. Our Deltagon solid carbide head, the ideal shape for a drill bit tip, produces near-perfect round holes.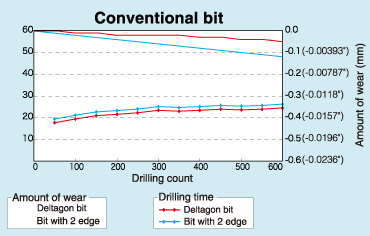 *
This test results are only an example and may differ depending on work materials and an electric drill you use.
Test data: Bit size 3/4" (19.0mm) (Hex Shank Bit)
Work materials: Concrete with a compressive strength of 300 kgf/cm2
Drilling length: 3-7/8" (100mm)