Hyperdia Disc (Curved surface type / For rough finishing)
Hard to clog. Original curved shape increases cutting ability.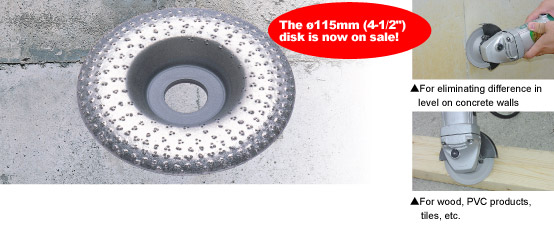 CHARACTERISTICS
Remarkable durability and speed by the unique diamond layout and by mounting method, and by the use of large diamond grains.
Unique curved surface makes work simpler and easier.
Large diamond grains increase durability and speed.
Designed for safety, with diamonds covering the entire surface.
Possible to grind even complicated shapes.
Lightweight design.
APPLICATIONS
For chamfering concrete, stone, etc., surfacing, cutting bumps, and eliminating difference in surface level.
For removing elastic films, cutting PVC pipes and wood, etc.
For removing mill scales on metal or weld beads.
SPECIFICATIONS
Outer diameter:
4-1/2" (115mm)
Grain size:
#30
Applicable electric drill:
Electric disc grinders that support discs with a diameter of
4-1/2" or 5".
Size table
Outer diameter
Part No.
Diameter of attachment hole H
Grain size
inch
mm
4-1/2"
115mm
HPD115C03E
7/8"
#30

Precautions for use
Do not push the Hyperdia disc with an excessively strong force. Otherwise, it may result in damage or bend.
The diameter of attachment hole is 7/8". Refer to the manual of an electric drill before attaching this tool.